Credly has teamed up with LinkedIn to help credential earners easily add verified achievements to their LinkedIn profile and to share them with their LinkedIn network.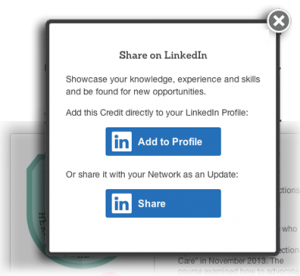 Building Value and Brand through Credentials
The Credly integration with LinkedIn offers many benefits to organizations that acknowledge achievement -- whether it be through issuing certifications, certificates, degrees, or digital badges -- as well as to those who do the work to earn them:
Credential earners can consistently share details of their certifications, which in turn means that hiring managers, recruiting professionals, colleagues and peers can readily find the talented individuals they are seeking.
Raises the visibility and utility of the organization's credentials and the programs, activities, courses, assessments or experiences that lead to them.
Achievements become even more valuable to those who have earned them when they are visible, verified and more consistently searchable.
Digital Credentials and Badges on the March
Over the last several months, you have no doubt already seen credentials distributed using Credly's secure credential network on LinkedIn profiles you've visited.
As an early Launch Partner with LinkedIn, Credly has been able to empower leading organizations -- like Adobe, EDUCAUSE, the Smithsonian, Training Magazine, NMC and Harvard -- to let their badge earners easily add their certifications "Direct to Profile".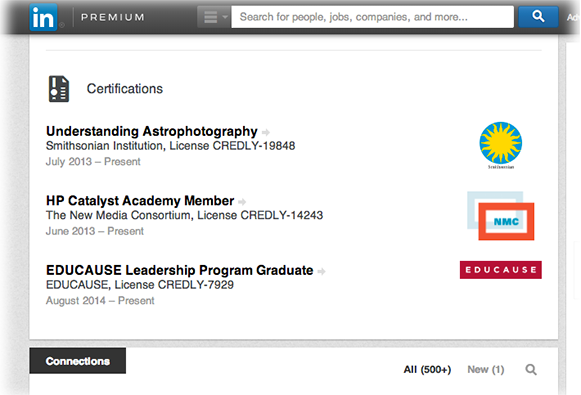 Your Identity Out in Front
With Credly's unique "Certificate Redirect" system, credentials and badges issued and managed using Credly's platform automatically redirect to the issuing organization's own web site -- even when shared on LinkedIn profiles. This puts the certifying party's brand and credibility front and center, while Credly's magic makes it all possible behind the scenes -- including providing actionable data, reports and analytics.
We believe that you should be able to put your organization's name and identity first. It's your reputation, standards, values and programs that give your credentials value.
Getting Caught Up: Putting Previously Earned Credentials to Use
Many organizations are using Credly to distribute credentials, certificates or certifications that were previously issued on paper or via PDF -- or that might even be locked up in a spreadsheet or database somewhere.
"Retroactive" issuing with Credly is an easy way to put the credentials you've already issued to work for your constituents and for your organization. Go from a paper certificate that few people can see and reward, to a consistent, branded digital format that can appear on sites like LinkedIn with one click. Keep track of all your credentials, where they go, and how and where they are being put to use.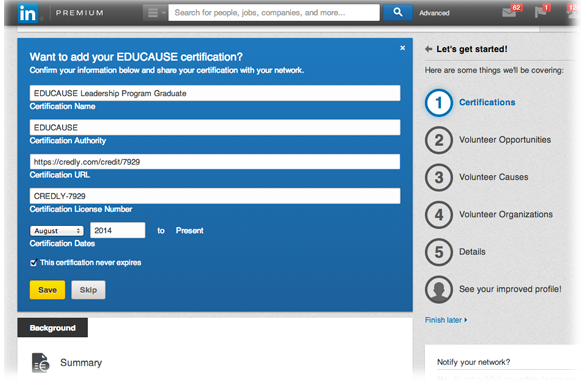 We're Here to Help
Contact us and a member of the Credly team will help you digitally issue your organization's credentials, certificates, licenses or other achievements. It's simple to do with Credly -- and you'll be putting these achievements to work like never before, but like you always intended.