Customize badge communications with your own logo and message.
Issuing digital badges is one of the most powerful and visible ways to acknowledge the skills, knowledge and behaviors that you value. When you certify achievements using Credly, you're honoring recipients with an endorsement that is backed up by the credibility and respect your organizational or personal brand commands.
That's why we're excited to announce that Credly issuers can now put the weight of their brand front and center when issuing digital badges with the new Custom Email Header feature now available to all Pro members.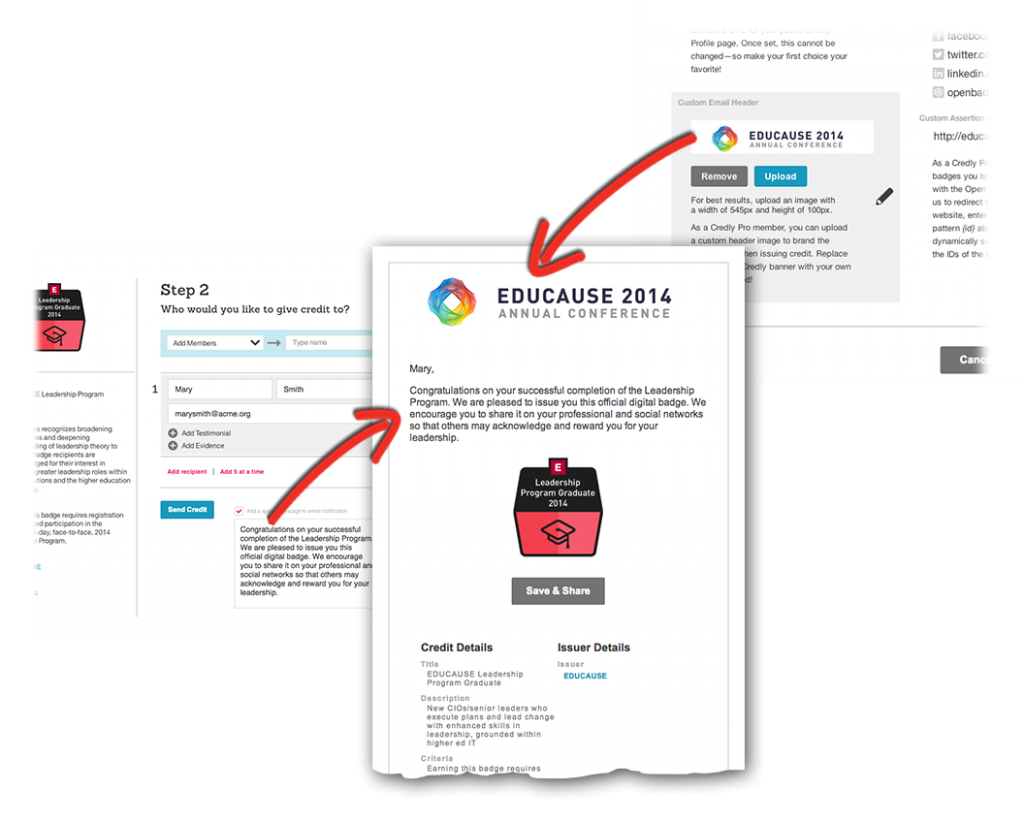 Customize the communication around badges you issue by adding your logo or image to the header of each email, along with a unique message to congratulate or greet recipients with a call to action.
How do I customize my badge emails?
It's simple. Visit your "Account Settings" and upload a header image, banner or logo. It will appear at the top of all outbound notifications sent to recipients of your credentials or badges, replacing the standard Credly logo and header. Together with a custom message that can be added to any badge, Pro members now control the messaging and communication around the badges they award. The custom header images also apply to badge messages sent using Badge Claim! (If you're not yet a Pro issuer, you'll need to upgrade first.)
Change Your Header Image for any Occasion
Update the header image as often as you like. Change it to reflect your events, conference or other activities you are acknowledging. It even works when sending badges using Credly integrations and apps, such as the new Eventbrite app.
A Great Companion to Custom Assertion
And don't forget to also enable Custom Assertion Location, which redirects observers of shared badges on professional and social networks to a display of the badge on your own site. This is a great opportunity to promote and market your programs, events, courses and activities to other potential badge earners -- and it's another easy way to put your brand, credibility and authority behind the credentials you issue.
Not yet a Pro Issuer? Upgrade today to take advantage of Custom Email Headers and enjoy many other benefits.